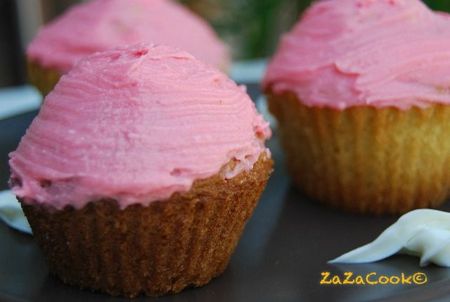 My daughter is obsessed with Chocolate. She always wants to cook chocolate cakes. She always makes chocolate cakes.
Suddently, she decided to make cupcake with no chocolate, but just with a pink top! Wow her dad said : "I want to taste your cupcakes!"
So we made together this new recipe.
Ingredients :
for the cupcakes
1 cup (2 sticks) swett butter, softened

1 cup granulated sugar

2 cups cake flour

2 tsp. baking powder

1 tsp. salt

4 large eggs

1/2 cup buttermilk

1 tsp. vanilla extract
for the frosting
3 cups confectionners' sugar, sifted

1 cup (2 sticks) sweet butter, softened

Pinch of salt

Red food coloring
Preheat the oven to 350 degre F. (175 degre C.). Place 18 paper baking cups in muffin pans. Combine all the cupcake ingredients in a large bowl and beat with an electric mixer until smooth and pale, about 2 to 3 minutes. Spoon the batter into the cups. Bake for 20 minutes. Remove pans from the oven and cool for 5 minutes. Then remove the cupcakes and cool on a rack.
To make the frosting, cream the confectionners' sugar, butter, and salt in a medium bowl with an electric mixer until smooth. Add a few drops of the food coloring, and mix until the frosting is a uniform pink. Spoon the pink frosting onto the cupcakes. Store unfrosted in an airlight container for up to 3 days.
These cupcakes are the same taste than "quatre-quarts", a brittany cake : really good!
It's always wonderful for our eyes to see so beautiful cupcakes! Who can resist a cupcake?
 Le coin français
Ingrédients :
pour les cupcakes
220 gr de beurre ramoli

230 gr de sucre granulé

260 gr de farine

2 cuil à café de levure

1 cuil à café de sel

4 larges œufs

135 ml de buttermilk (lait fermenté)

1 cuil à café d'extrait de vanille
pour le glaçage
300 gr de sucre glace

220 gr de beurre ramoli

1 pincée de sel

colorant rouge
Préchauffez le four 175 degré F. Placez 18 moules en papier ou en silicone dans un moule à muffins. Mélangez tous les ingrédients dans un large récipient avec un mixeur jusqu'à ce que la pâte soit onctueuse et pâle, environ 2 à 3 minutes. Remplir chaque moule au 3/4. Laissez cuire 20 minutes. Puis après la cuisson, retirez les cupcakes du four et les laissez refroidir 5 minutes. Les retirez ensuite du moule à muffins.
Pour faire le glaçage, mélangez à l'aide d'un mixer le sucre glace, le beurre et le sel jusqu'à obtenir une pate onctueuse. Ajoutez quelques gouttes de colorant, et bien mélangez afin d'obtenir une couleur rose uniforme. Déposez ensuite votre glaçage sur chacun des cupcakes.