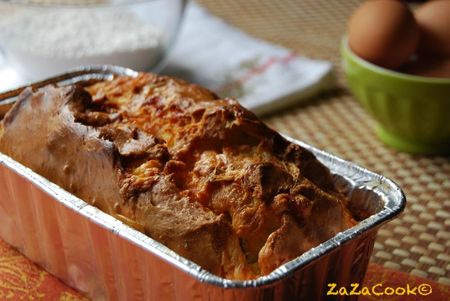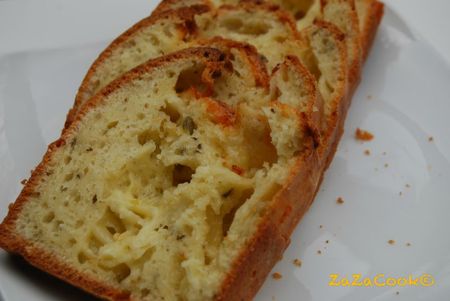 Wow It's so good! The cheese is so meelty and the Jalapeno Pepper Cheese so spicy. You find the French Cake serving up at "l'heure de l'apéritif" (cocktail hour) in French families.
You can add green olives, if you do it, do not add salt. You can combinate Feta and Basil or Salmon and Zucchini, whatever you want. I'm sure you can think up your own wonderful taste combination.
Prep Time : 25 minutes Cook time : 55 minutes (375 degré F.) ou 50 minutes (180 degré C.)
Ingredients :
1 1/3 cup all purpose flour, plus 2 Tbs

1/2 envelope active dry yeast

3 eggs

6 Tbs vegetable oil

6 Tbs milk

7 oz cheese with Jalapeno Peppers

1/2 tbs dried-freeze herbs (oregano, basil or italian seasonning)

1/4 tsp salt
Directions :
Preheat ovent to 375 degré F.
Cut the cheese in small pieces, then toss them with 2 Tbs of flour to lightly coat them.
Put the flour in a large bowl. Set aside.
To dissolve the yeast, stir it in 3 Tbs warm milk; let stand 10 minutes.
Crack the eggs, in a medium bowl. Use a batter to beat them, add oil, milk with yeast, plus 3 more Tbs milk. And mix again.
Add slowly the mixture (egg, oil...) into the bowl of flour. Blend until the mixture is smooth. Add the floured cheese et mix slowly.
Pour the batter into prepared pan (I used Laof Pan 8 in. x 3

7/8

in. x 2

15/32

in.). Bake for 55-60 minutes.
Ingrédients :
180 gr de farine, plus 2 cuil. à soupe
1/2 sachet de levure
3 œufs
10 cl huile végétale
10 cl lait
200 gr fromage aux piments
1/2 cuil. à café d'herbes déshydratées (oregan, basil....)
1 pincée de sel
Directions :
Préchauffer le four à 180 degré C.
Couper le fromage en petits morceaux. Déposer les morceaux de fromage dans un bol et y mélanger 2 cuil. à soupe de farine (petite astuce pour éviter que les morceaux de fromage ne tombent au fond pendant la cuisson).
Mélanger la levure à la farine dans un grand récipient.
Dans un second récipient, battez à l'aide d'un fouet les œufs entiers, l'huile, le lait, le poivre. Ajoutez les morceaux de fromage à la préparation.
Mélanger délicatement. Verser ensuite le tout dans un moule à cake que vous aurez préalablement beurré et fariné.
Faire cuire pendant 50 minutes.