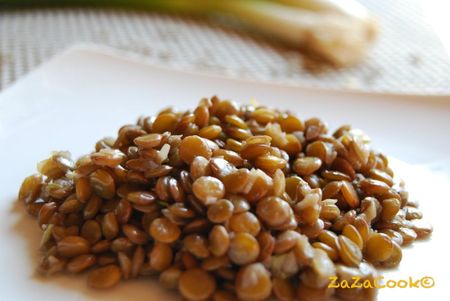 Lentills are relatively quick and easy to prepare. They do not require presoaking and cook to tenderness in only 20 or 30 minutes. "Healthy Heart" Cookbook - American Medical Association- inspired me for this recipe : a really good book to eat and live well, a book to fight heart disease.
It's wonderful, the green onions -that I added just at the end- give a super flavor and the cooking is perfect!
Serving : 2-3
Ingrédients :
1 Tbs olive oil

1/2 yellow onion, chopped

2 cups fat-free, no-salt vegetable broth

1/4 cup water

1 cup dried green lentils

2 green onions (scallions), chopped

pepper and salt
Directions :
In a saucepan, heat the olive oil over medium-high heat. Add the yellow onion and sauté until soft, about 3 or 4 minutes. Carefully add the broth and 1/4 cup of water and bring to boil
Add the lentils and reduce the heat to medium-low. Cover and simmer until the lentils are tender, about 20 minutes. Add the green onions, pepper and salt. Stir to combine and cook for about 1 or 2 minutes longer. Serve hot (making a satisfying side dish) or cold with a vinegar of your choice.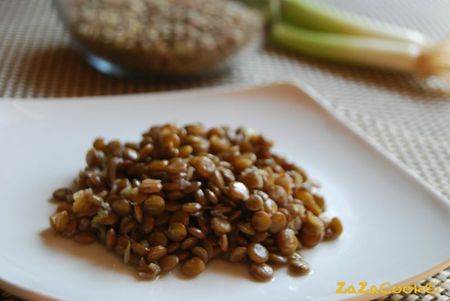  Le coin francais
Ingrédients :
1 cuil. à soupe d'huile d'olive

1/2 oignon jaune, coupé en morceaux

500 ml de bouillon

50 ml d'eau

200 gr lentilles vertes

2 oignons verts

sel et poivre
Directions :
Dans un fait tout, faire chauffer une cuil. à soupe d'huile d'olive. Ajouter les oignons jaunes et faire revenir pendant 3-4 minutes.
Doucement ajouter le bouillon + 50 ml d'eau et porter à ébullition.
Ajouter les lentilles et réduire la cuisson. Couvrir et laisser mijoter pendant 20 minutes. Ajouter les oignons verts, le poivre et le sel, laisser mijoter encore 1 à 2 mn. Servir chaud en accompagnement d'un rôti ou d'un poulet, ou froid en salade assaisonné de la vinaigrette de votre choix.