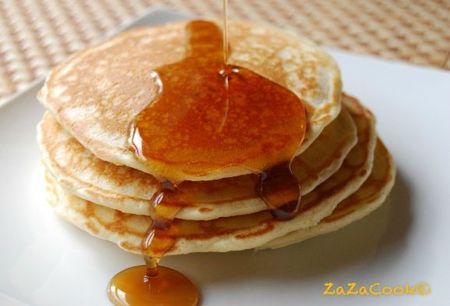 Breakfast is for me the most delightful meal in the day. Those fluffy pancakes are wonderful for a breakfast!!! With a cup of coffee, it's so yummy!!
These pancakes remind me the hotel breakfasts, when I travelled a lot visiting United States. I remembered when I stood by the buffet trying to find the best for me : pancakes, muffins or croissants, yogurt, fruits, muesli....bacon, eggs..... I love hotel breakfasts.
Since I found this great recipe in a cooking magazine, I made pancakes almost every two days. It's always a success :)! It's really easy to make, you just need 2 eggs, milk, flour, baking powder, sugar, salt and butter.
You can test a variety of toppings : maple syrup, salted butter and sugar, whipped cream and blueberries/blackberries, hot fudge and marshmallows, bananas cooked with butter....
This recipe is adapted from "EveryDay by Rachel Ray" - December 2011.
Serving : 13-15 pancakes Prep time : 10 mn Cooking : 15 mn
Ingredients :
1

1/2

cups flour

3 Tbs sugar

1

1/2

tsp baking powder

1/2 tsp salt

1

1/4

cups milk

2 eggs, separated

3 Tbs melted butter
Directions :
In a medium bowl, whisk together the flour, sugar, baking powder and salt. In another bowl, whisk together eggs yolks, milk and melted butter. Pour the wet mixture into the dry and stir until just combined.
Preheat a griddle or large nonstick skillet over medium heat. Meanwhile, beat the egg whites to soft peaks. Gently fold the whites into the batter.
Grease (I chose canola oil) the griddle and ladle on 1/4-cup portions of batter. Cook on 1 side until bubbles form and the pancakes are cooked around the edges, 1 minute. Flip and cook through, 1

1/2

minutes more. Serve hot.