This month we had to choose a challenge we've already completed or a challenge we've nerver done. Thanks Lisa for this free Challenge "Eenie Meenie Miney Moe!"!
I chose a challenge that I always wanted to make- French Macarons- October 2009 Challenge. I remember the Macarons that I bought in Paris, quartier La Madeleine, 3 years ago. It was so nice : the Macarons had a variety of colors!
I decided to make them on July 14th for a party, to share with friends. Everybody loved them!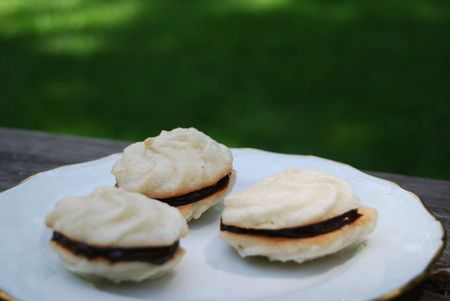 The Macarons cookies base is so easy to make. You just need almond flour, confectionar's sugar, sugar and eggs white, that's it!
Unfortunatly, my Macarons weren't crispy enough. They do not look like the Parisians Macarons, I do not understand why! I followed the recipe exactly. They were soft and chewy!
So I tried another batch and baked at high temperature (350 degre F. for 15 mn), but my pink cookies lost their beautiful and bright color.:(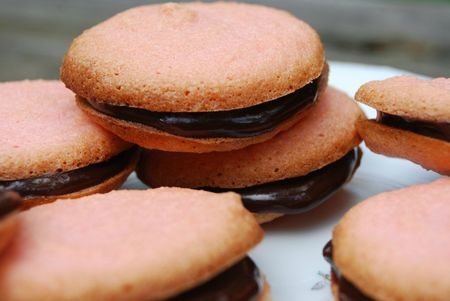 Anyway my kids loved them :).
The Ganache au chocolat - chocolate filling- was perfect. I chose a recipe from David Lebovitzh - Living the sweet life in Paris -.
When your chocolate filling is enough cold, you just have to assemble each cookie like a sandwich. And it's done and ready to eat!
Bon appetit!
Below is the recipe of Macarons Cookies Dough
:
Ingredients
Confectioners' (Icing) sugar: 2 ¼ cups (225 g, 8 oz.)
Almond flour: 2 cups (190 g, 6.7 oz.)
Granulated sugar: 2 tablespoons (25 g , .88 oz.)
Egg whites: 5 (Have at room temperature)
Directions:
1. Preheat the oven to 200°F (93°C). Combine the confectioners' sugar and almond flour in a medium bowl. If grinding your own nuts, combine nuts and a cup of confectioners' sugar in the bowl of a food processor and grind until nuts are very fine and powdery.
2. Beat the egg whites in the clean dry bowl of a stand mixer until they hold soft peaks. Slowly add the granulated sugar and beat until the mixture holds stiff peaks.
3. Sift a third of the almond flour mixture into the meringue and fold gently to combine. If you are planning on adding zest or other flavorings to the batter, now is the time. Sift in the remaining almond flour in two batches. Be gentle! Don't overfold, but fully incorporate your ingredients.
4. Spoon the mixture into a pastry bag fitted with a plain half-inch tip (Ateco #806). You can also use a Ziploc bag with a corner cut off. It's easiest to fill your bag if you stand it up in a tall glass and fold the top down before spooning in the batter.
5. Pipe one-inch-sized (2.5 cm) mounds of batter onto baking sheets lined with nonstick liners (or parchment paper).
6. Bake the macaroon for 5 minutes. Remove the pan from the oven and raise the temperature to 375°F (190°C). Once the oven is up to temperature, put the pans back in the oven and bake for an additional 7 to 8 minutes, or lightly colored.
7. Cool on a rack before filling.