Why I never made homemade applesauce? I do not know!
Yesterday I made Apple Compote. It smelt so good in my kitchen! It's just delicious, just sweet with the little bits of apple!
It's a good way to eat apples! I used a mix of Honey Crisp and Pink Lady.
Apple sauce is a good dessert, and perfect for a breakfast too.
It is easy to make and not expensive! I love easy recipes when I have no time to cook! Of course, I have to make this recipe again. It's now ma recette favorite de compote de pommes :)
It's so delicious hot or refrigerated!
You can serve it with Quatre-Quarts, vanilla ice cream or with French toast.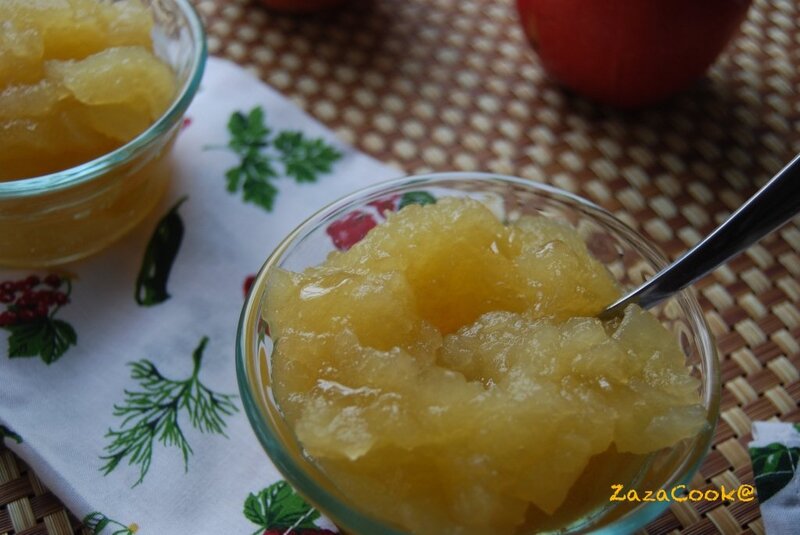 Ingredients
2 kg (10-12 apples) apples peeled, cared and cubed
2 cups water
250 gr, 1 cup granulated sugar
lemon zest
1/2 vanilla bean, split in half
Directions
In a large saucepan combine the water, the sugar, lemon zest, vanilla bean and bring to a boil. Boil gently until the sugar is dissolved and the mixture thickens slightly about 5 minutes. Add the apples and return to a boil. Lower the heat and simmer, stirring occasionally, until the apples are very tender and the mixture thickens, about 20 or 30 minutes.
Remove from the heat and remove the vanilla bean pods. Let cool to room temperature.