This morning, it smells so good in my kitchen! It smells ginger and honey, wow!
Thanks to Andrea from 4Pure for challenging us to make a Ductch Sweet Bread, called ontbijtkoek (literally translated breakfast cake) .
We had a choice between Peperkoek Cake -(pepper cake) this spiced cake is an integral part of the breakfast table in Holland-, Kruidkoek or Sugarfree Peperkoek.
I chose the first one. It is often spiced with cloves, cinnamon, ginger, succade (candied citrus peel) and nutmeg. I just used ginger powder (1 teaspoon) as a spice, add honey (1 teaspoon) and orange extract (1/4 teaspoon).
The result was perfect! This bread is surprising; with unsalted butter is so good!
I've never made a Dutch Sweet Bread before this challenge.
As soon as I have guests for breakfast, I am sure to make this fantastic bread again.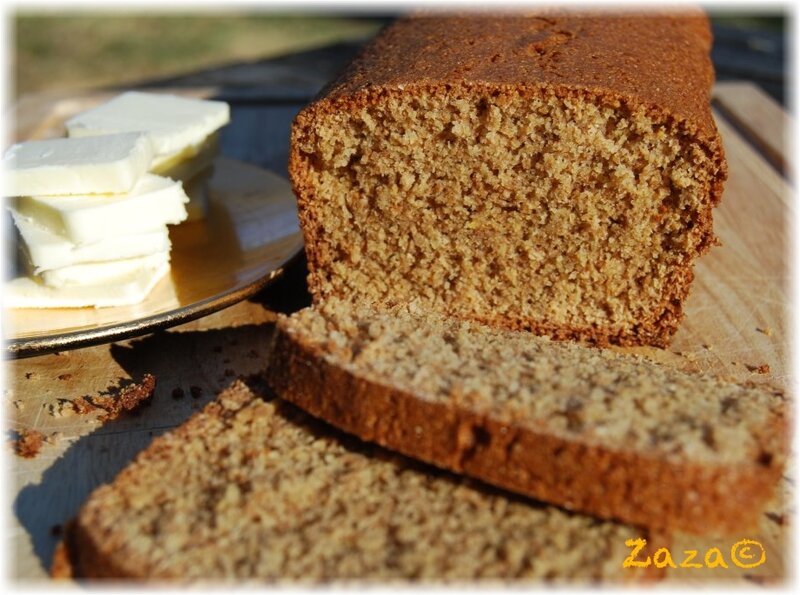 Recipe: Gingerbread Spice Blend
6 tablespoons (40 gm) cinnamon
2 teaspoons (10 gm) nutmeg
1 teaspoon (5 gm) cloves
1 teaspoon (5 gm) cardamom
1 teaspoon (5 gm) ground white pepper
1 teaspoon (5 gm) ground coriander
1 teaspoon (5 gm) ground ginger
1 teaspoon (5 gm) ground anise
1 teaspoon (5 gm) ground
Original recipe : Peperkoek cake
Ingredients
1 large egg
1 tablespoon (15 ml) cane sugar syrup
1 cup less 2 tablespoons (220 ml) lukewarm water
1 tablespoon (15 ml) (½ oz) (15 gm) ground gingerbread spices
1¼ cup (300 ml) (8¾ oz) (250 gm) brown sugar, firmly packed
2 cups (480 ml) (8¾ oz) (250 gm) whole-wheat flour
1¾ teaspoons (8 gm) baking powder
Directions:
Preheat oven to moderate 350°F/180°C/gas mark 4 and line a 30cmx12 cm (12"x5") baking tin with parchment paper.
Measure all the ingredients.
Put the egg, syrup, water, spices and brown sugar in a bowl. Whisk until everything is dissolved.
Add the whole-wheat flour and the baking powder into the bowl and mix all the ingredients with a wooden spoon until the flour is wet. It doesn't matter if there are some lumps left.
Pour into the baking tin and bake in a preheated moderate 350°F/180°C/gas mark 4 oven for 70 minutes.
To check if the sweet bread is done, stick a wooden skewer or toothpick into the middle. If it comes out clean the sweet bread is ready.
Take the cake out of the oven, allow to cool in the pan for 5 minutes
After the 5 minutes take the cake out of the pan and let the cake cool down to room temperature before serving.