Sablés are delicate butter biscuits, crunchy and crumbly. The French word sable means "sand", which refers to the sandy texture.
When I eat a sablé , I cannot resist to eat another one, and another one ..... I asked my kids, "do you want to eat one before I finish them all", Ah Ah Ah!
I loved French sablés. I remember eating the Galette de Pont-Aven when I lived in Brittany. It was incredibly good!
Today my sabés are a Parisian style. It's the perfect biscuit to bake and eat during a winter storm :) Too much snow in New Jersey this winter, it's perfect weather to bake and have fun in my kitchen with my daughter. Thanks Sarah for helping me in this lovely recipe!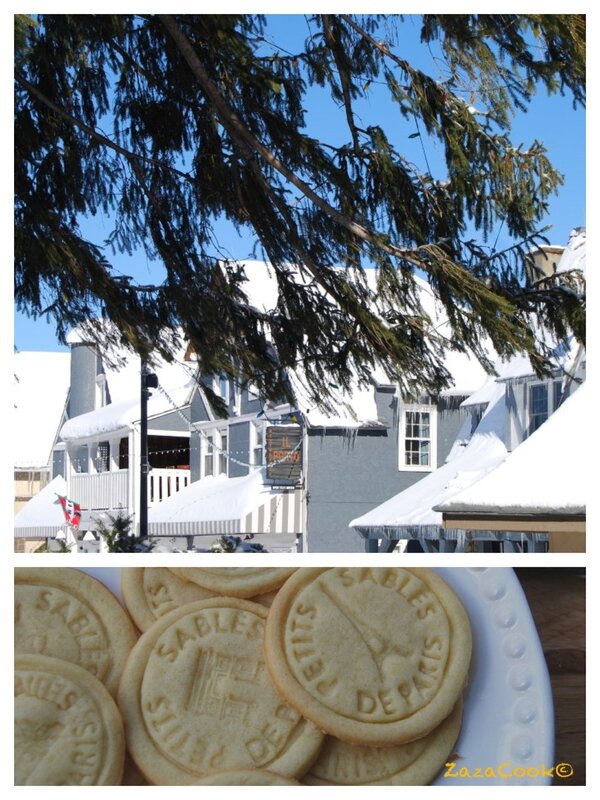 Ingredients
200 gr (1 cup + 1/4 cup) all purpose flour
100 gr (1/3 cup) granulated sugar
125 gr (1 stick + 1 tablespoon) salted butter at room temperature (in small pieces)
1 egg
Directions
In a small bowl, sift the flour and the sugar together. Add the butter. Press the dough with the palm of your hand until the butter is incorporated.
Add the egg. Using the paddle attachment, beat together until you get a smooth dough.
On a floured work surface, roll out the dough to a little under 4 mm (1/6") in thickness. Roll the dough into a log. Cover with a plastic wrap and transfer to refrigerator for about 30 minutes until chilled.
Place the chilled dough on a lightly floured work surface.
Preheat oven to 180 degree C., 350 degree F. Line 2 baking sheet with parchment paper.
Press the stamp "Petits sablés de Paris" and cut out the biscuits using a cookie cutter or a glass.
Bake for 13 minutes. Transfer to a wire rack to cool.
Sources : Sablés maison- sucrés & salés by Ilona Chovancova